Product Information
ACRYLIC GLASS - PREMIUM COMPOSITE
Perfect Symbiosis of Elegance and Quality
FineArt Prints on AluDibond are the ultimate product for high-quality artworks that offer a combination of minimalist elegance and premium materials.
Premium Materials: Premium Composite uses an AluDibond carrier, known for its durability, longevity, and aesthetic appeal. The acrylic glass adds a modern and elegant surface appearance to the image, while the classic photo print serves as the image carrier. This combination of high-quality materials ensures excellent image quality and impressive presentation.
Imposing Presence: The use of premium materials such as aluminum and the glossy surface give my FineArt Print on AluDibond an imposing presence. This product captures attention and is particularly favored by discerning customers, art enthusiasts, and collectors.
Leading Reproduction Technology: The classic photo print is still considered the leading reproduction technology for the best reproduction of color brilliance, sharpness, and detail accuracy. By using state-of-the-art printing technology and high-quality materials, we ensure that your artwork is reproduced in the best possible quality.
Long-lasting Quality: Thanks to the use of premium materials, the durability of our FineArt Prints on AluDibond is guaranteed for over 100 years. This means that your artwork will remain in pristine condition for future generations, making it a long-term investment.
Purist Elegance: My FineArt Prints on AluDibond are characterized by their purist elegance, allowing your artwork to take center stage. The clear, minimalist look is perfect for modern interior styles and is ideal for limited editions and sophisticated art presentations.
Premium Composite is the ideal choice for customers who seek high-quality fine art reproductions in purist elegance. Experience the imposing presence and long-lasting quality of this premium product and let your artwork shine in its best form. Please feel free to contact me for further information or personalized consultation.
Material Properties:
• Modern high-gloss surface
• Brilliant color properties
• Highly impact-resistant and durable
• Aluminum as a premium carrier material
• Extremely dimensionally stable
Technical Specifications:
• Surface: 3mm acrylic glass
• Carrier Material: 3mm AluDibond composite
• Image Carrier: Lambda-Print (photo print) on Supreme Paper
• Total Material Thickness: approximately 7mm
• Weight: approximately 7.4 kg/m2
• Maximum Format: 3000 x 1800 mm
• Fire Behavior DIN 4102-2: B2
• Materials: Acrylic glass, AluDibond, Photographic paper
Perfekte Symbiose von Eleganz und Qualität
FineArt Prints auf AluDibond sind das ultimative Produkt für hochwertige Kunstwerke, die eine Kombination aus minimalistischer Eleganz und erstklassigen Materialien bieten.
Hochwertige Materialien: Bei Premium Composite wird ein Alu-Dibond-Träger, der für seine Robustheit, Langlebigkeit und ästhetische Optik bekannt ist, verwendet. Das Acrylglas verleiht dem Bild eine moderne und elegante Oberflächenanmutung, während die klassische Fotoausbelichtung als Bildträger dient. Diese Kombination aus hochwertigen Materialien gewährleistet eine exzellente Bildqualität und eine beeindruckende Präsentation.
Imposante Ausstrahlung: Die Verwendung von Premiumwerkstoffen wie Aluminium und die glänzende Oberfläche verleihen meinem FineArt Print auf AluDibond eine imposante Ausstrahlung. Dieses Produkt zieht die Blicke auf sich und ist besonders bei anspruchsvollen Kunden, Kunstliebhabern und Sammlern beliebt.
Führende Reproduktionstechnik: Die klassische Fotoausbelichtung gilt immer noch als führende Reproduktionstechnik für die beste Wiedergabe von Farbbrillanz, Schärfe und Detailtreue. Durch den Einsatz modernster Drucktechnik und hochwertiger Materialien ist sichergestellt, dass Ihr Kunstwerk in bestmöglicher Qualität reproduziert wird.
Langlebige Qualität: Dank der Verwendung von Qualitätsmaterialien ist die Haltbarkeit unseres FineArt Prints auf AluDibond weit über 100 Jahre gewährleistet. Dies bedeutet, dass Ihr Kunstwerk auch noch für kommende Generationen in bestem Zustand erhalten bleibt und eine langfristige Investition darstellt.
Puristische Eleganz: Meine FineArt Prints auf AluDibond zeichnen sich durch ihre puristische Eleganz aus, die es Ihrem Kunstwerk ermöglicht, im Mittelpunkt zu stehen. Die klare, minimalistische Optik passt perfekt zu modernen Einrichtungsstilen und ist ideal limitierte Auflagen und anspruchsvolle Kunstpräsentationen.
Premium Composite  ist die ideale Wahl für Kunden, die hochwertige Fotoreproduktionen in puristischer Eleganz wünschen. Erleben Sie die imposante Ausstrahlung und langlebige Qualität dieses Premiumprodukts und lassen Sie Ihr Kunstwerk in bestmöglicher Form erstrahlen. Kontaktieren Sie mich gerne für weitere Informationen oder eine individuelle Beratung.
Materialeigenschaften
• Moderne hochglänzende Oberfläche
• Brillante Farbeigenschaften
• Äußerst bruchfest und langlebig
• Aluminium als hochwertiges Trägermaterial
• Extrem formstabil
Technische Daten
• Oberfläche: Acrylglas 3 mm
• Trägermaterial: Alu-Dibond Verbund 3 mm
• Bildträger: Lambda-Print (Ausbelichtung) auf Supreme Papier
• Gesamt Materialstärke: ca. 7 mm
• Gewicht: ca. 7,4 kg/m2 • Maximalformat: 3000 x 1800 mm
• Brandverhalten DIN 4102-2: B2
• Materialen: Acrylglas, Alu-Dibond, Fotopapier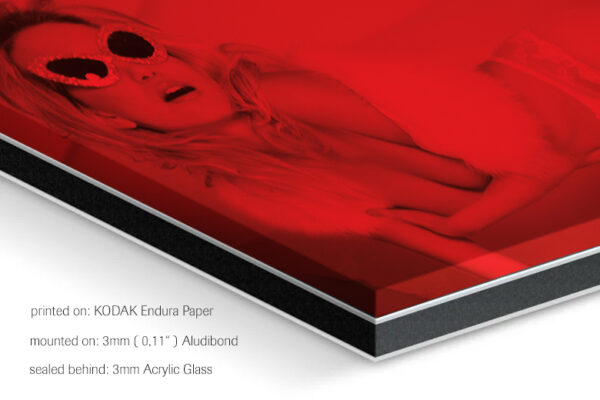 Product Information
ALUDIBOND
FineArt Prints in Puristic Elegance
Structure: A Fine Art Print on AluDibond consists of a total of four layers that directly showcase your original artwork without glass. A durable mounting on AluDibond ensures perfect flatness and allows for a clear and professional presentation of your image.
Paper Surface: Please note that the paper surface is unsealed to allow your Fine Art Print to have its full impact. For this reason, it is important to handle the surface with utmost care to avoid potential damage.
High-Quality Materials: Only high-quality materials are used for my FineArt Prints on AluDibond to ensure a long-lasting and premium presentation of your artwork. The photos are printed on KODAK Endura paper using a Durst Lambda printer. The AluDibond material is known for its durability, stability, and aesthetic appearance.
Care Instructions: Please note that due to the unsealed paper surface, extra careful care is required. Avoid direct contact with water or other liquids and only use a soft, dry cloth for cleaning.
I hope this product information helps you in deciding to choose my FineArt Print on AluDibond. If you have any further questions or need more information, I am happy to assist you!
FineArt Prints in puristischer Eleganz
Aufbau: Ein Fine Art Print auf AluDibond besteht aus insgesamt vier Schichten, die Ihr Originalkunstwerk direkt und ohne Glas präsentieren. Eine langlebige Kaschierung auf AluDibond sorgt für eine perfekte Planlage und ermöglicht eine klare und professionelle Präsentation Ihres Bildes.
Papieroberfläche: Bitte beachten Sie, dass die Papieroberfläche unversiegelt ist, um Ihrem Fine Art Print seine volle Wirkung zu ermöglichen. Aus diesem Grund ist es wichtig, die Oberfläche mit absoluter Vorsicht zu behandeln, um mögliche Beschädigungen zu vermeiden.
Hochwertige Materialien: Es werden ausschließlich hochwertige Materialien für meine Fine Art Prints auf AluDibond verwendet, um eine langanhaltende und hochwertige Präsentation Ihres Kunstwerks zu gewährleisten. Ausbelichtet werden die Fotos auf KODAK Endura Papier mittels eines Durst Lambda Belichters. Das AluDibond-Material ist bekannt für seine Langlebigkeit, Stabilität und ästhetische Optik.
Pflegehinweise: Bitte beachten Sie, dass aufgrund der unversiegelten Papieroberfläche eine besonders sorgsame Pflege erforderlich ist. Vermeiden Sie direkten Kontakt mit Wasser oder anderen Flüssigkeiten, und verwenden Sie zur Reinigung nur ein weiches, trockenes Tuch.
Ich hoffe, dass Ihnen diese Produktinformationen helfen, sich für meinen Fine Art Print auf AluDibond zu entscheiden. Bei weiteren Fragen oder Informationen stehe ich Ihnen gerne zur Verfügung!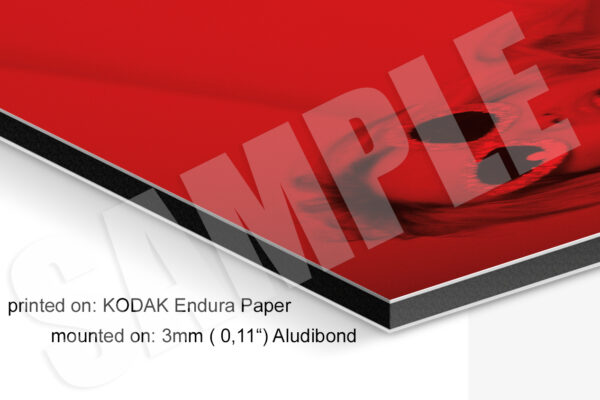 Premium Composite
The trend in modern photography is quite clearly moving towards high value products. The compound product 'premium composite' fuses a high value artistic motif with a high grade production process to create a highly valuable finished work of art. The stars of the international photography scene today mostly reproduce their photos on premium composite. Premium composite is a so-called "Sandwich product", made from a combination of high grade materials. A photo exposure fixed to Alu-Dibond is laminated behind a sheet of high grade acrylic glass with artificial resin. The result is a high gloss surface, which is stabilised by the Alu-Dibond sheet. The photo medium is a classical exposure on supreme photo paper.
Premium composite production process
Premium composite is produced with a demanding process using high grade components. Firstly the image file is exposed on large format supreme paper. This exposure is then laminated with artificial resin to an Alu-Dibond sheet. After the laminate is left to dry, acrylic glass is then laminated to the compound material to create a typical premium composite sandwich structure. This adhesive fix also has to be left to completely dry. Finally, a girder section is mounted to the back side of the Alu-Dibond sheet with silicon. The result is a highly valuable photo product, that can be mounted free-hanging.
Technical details
•Surface: Acrylic glass 3 mm
•Medium: Exposure on photo paper
•Total material thickness : approx. 7 mm
•Weight: approx. 7,4 kg/m2 •Maximum production format: 3000 x 1800 mm
•Fire protection class DIN 4102-2: B2
•Materials in compound: Alu-Dibond, Acrylic glass, exposed photo paper