A Matter of Faith: Color or Black and White in Nude Photography
The question of whether nude photos should be captured in color or black and white has long intrigued photographers.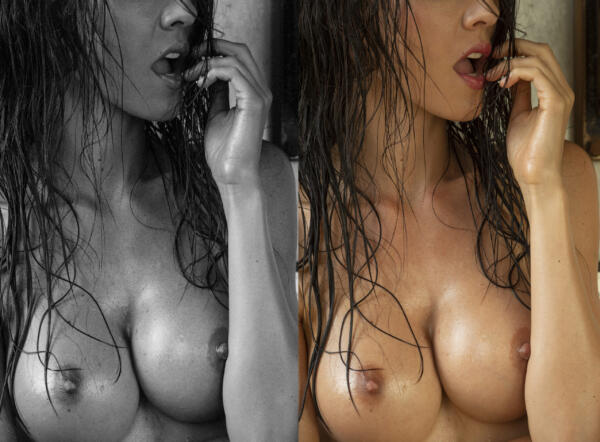 Both approaches possess their own allure and can evoke distinct emotional responses in viewers.
In this article, I would like to explore the merits of color and black and white nude photography, and how they can shape the message and aesthetics of an image.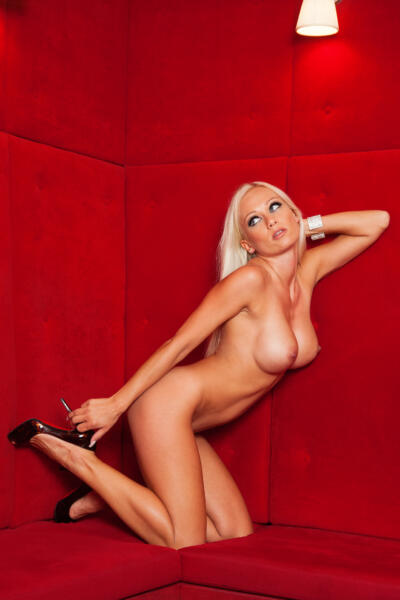 By utilizing color in nude photography, a rich spectrum of emotions and moods can be conveyed. From passionate reds to soothing blues, color photography allows for the capture of the subject's energy and expressiveness. However, when it comes to classic nude photography, where the focus is solely on the human form, I almost always opt for black and white.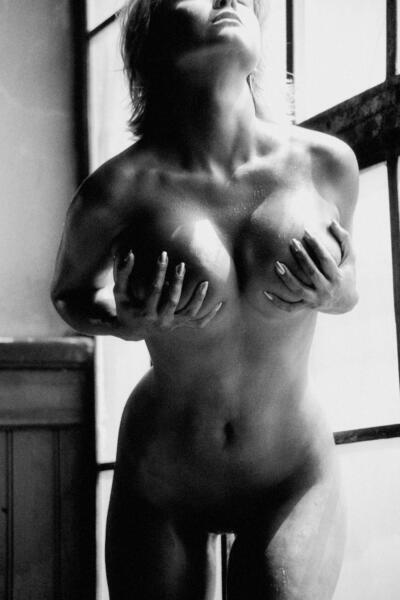 Black and white nude photography, on the other hand, exudes a unique charm and timeless elegance. By relinquishing color, the emphasis shifts to forms, contrasts, and textures. The absence of color creates a certain abstraction, enabling viewers to delve deeper into the composition. Black and white photos can evoke an intimate and artistic ambiance, accentuating the model's expression. As an ardent fan of black and white photography, I find these images to be more intriguing, aesthetically pleasing, and emotionally captivating. They give me a sense of being closer to the scene, whereas color photography often positions me as a silent observer (this is purely a personal perception). While color photography can sometimes veer towards a more commercial aesthetic, black and white remains artistically demanding.
In the past, I exclusively worked in black and white, but with the transition to digital, I now capture everything in color and later convert to black and white during post-processing. However, it is important to note that not all black and white conversions are equal. There are countless nuances in the process of black and white development, offering nearly limitless possibilities for artistic expression.
Furthermore, rules and guidelines are meant to be broken, and it is worth experimenting with different approaches to further develop one's personal style. The same subject can tell entirely different stories in color and black and white. Both approaches have their merits and should be employed in their own unique ways within nude photography. Ultimately, it is up to the photographer to find the best way to capture and express the beauty, sensuality, and emotive power of the nude subject.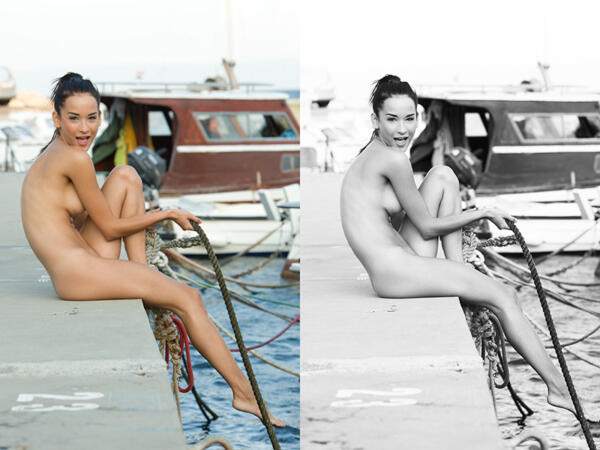 Eine Glaubensfrage - Farbe oder sw in der Aktfotografie
Die Frage, ob Aktfotos in Farbe oder Schwarz-Weiß aufgenommen werden sollten, hat Fotografen seit jeher beschäftigt. Beide Ansätze haben ihren eigenen Charme und können eine ganz unterschiedliche emotionale Wirkung auf den Betrachter entfalten. In diesem Beitrag würde ich gerne versuchen, welche Vorzüge Farb- und Schwarz-Weiß-Aktfotografie bieten und wie sie die Botschaft und Ästhetik einer Aufnahme beeinflussen können.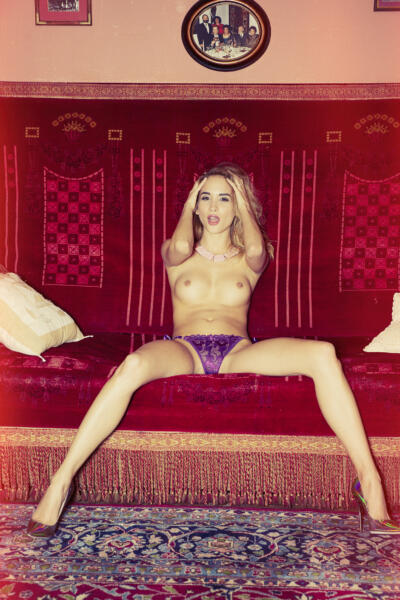 Durch Verwendung von Farbe in der Aktfotografie kann eine reiche Palette an Emotionen und Stimmungen vermittelt werden. Von leidenschaftlichem Rot bis hin zu beruhigendem Blau - Farbfotografie erlaubt es, die Energie und Ausdruckskraft des Motivs einzufangen. Allerdings würde ich bei der klassischen Aktfotografie, wo nur der Mensch abgebildet ist beinahe immer schwarzweiss verwenden.
Schwarz-Weiß-Aktfotografie hingegen besitzt einzigartigen Charme und zeitlose Eleganz.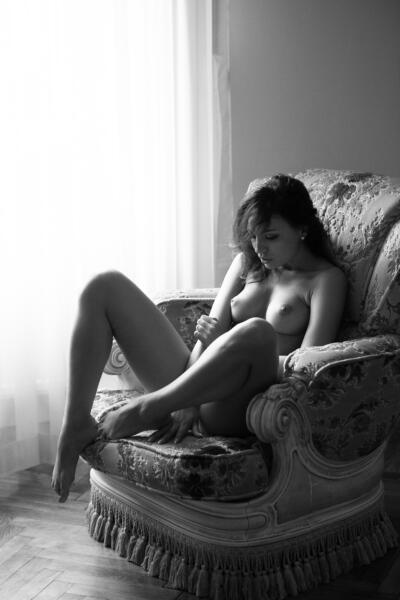 Durch den Verzicht auf Farbe liegt der Fokus auf Formen, Kontrasten und Texturen. Die Abwesenheit von Farbe erzeugt eine gewisse Abstraktion und ermöglicht es dem Betrachter, tiefer in die Bildkomposition einzutauchen. Schwarz-Weiß-Fotos schaffen eine intime und künstlerische Atmosphäre, indem sie den Ausdruck des Models in den Vordergrund stellen. Als großer Fan der Schwarz-Weiß-Fotografie empfinde ich diese Bilder als interessanter, ästhetischer und emotionaler. Sie vermitteln mir das Gefühl, näher am Geschehen zu sein, während Farbfotografie mich oft eher zum stillen Beobachter macht (ein rein persönliches Empfinden). Farbfotografie kann leider auch leicht in die Billigschiene abrutschen, obwohl es immer wieder Motive gibt, die in Farbe besser zur Geltung kommen. Für mich ist Farbe plakativer, während Schwarz-Weiß eine größere künstlerische Herausforderung darstellt.
Früher habe ich ausschliesslich in sw gearbeitet, seit dem Umstieg auf digital wird alles in Farbe fotografiert und erst in der Nachbearbeitung in sw konvertiert. Sw ist aber nicht gleich sw. Es gibt dermaßen viele Nuancen in der sw Ausarbeitung, dass es hier beinahe keine Grenzen der künstlerischen Gestaltung gibt.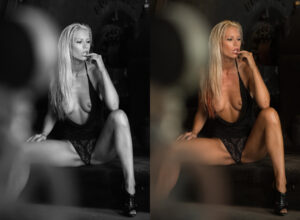 Außerdem sind Regeln und Richtlinien dazu da um gebrochen zu werden und es lohnt sich, verschiedene Ansätze auszuprobieren und den persönlichen Stil weiterzuentwickeln. Ein und dasselbe Motiv kann in Farbe und Schwarz-Weiß völlig unterschiedliche Geschichten erzählen.
Beide haben ihre Vorzüge und sollten auf ihre eigene Art und Weise in der Aktfotografie eingesetzt werden können.
Letztendlich liegt es in den Händen des Fotografen, den besten Weg zu finden, um die Schönheit, Sinnlichkeit und Ausdruckskraft des Aktmotivs einzufangen und zum Ausdruck zu bringen.